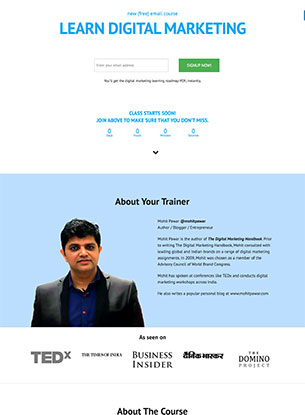 Email Course (Lead Generation): Learn Digital Marketing Course
Free Course @ LearnDM.com – Resulted in 10000+ subscribers organic in 59 days
A 12 part email course to teach digital marketing to the enthusiasts and professionals.
Generate leads for a digital marketing training business.
59 days for a 4 member team supported by friends and colleagues to get 10,000+ subscribers.
No quality free resource to teach digital marketing to those who want to learn it on their own time.
The course uses email to deliver digital marketing education in parts to the busy sales and marketing professionals.
Mont Pier team reached out to friends and colleagues to join the course and then asked them to share with their friends who will find it useful. This gave us our first couple of hundred users. Later on we leveraged Facebook groups to go to 1000 and then cross 10,000 email subscribers in less than 2 months.
Taught thousand the basics to mid-level digital marketing. Won their trust and many leads for our paid courses.
In December 2015, we decided to launch a free email course. This was conceptualised as a Drip content course (email sequence shared over 12 weeks) – for lead generation, lead nurturing and final conversion for paid course users.
We launched the course to a small group of friends via WhatsApp. The course got good response and first 100 subscribers got enrolled in a day's time. Later, we leveraged Facebook to grow the subscriber base. Initially we had planned to offer it every six months. Due to overwhelming response we introduced it again in Jan 2016.
More than 10,000 subscribers got registered in less than two months and later number crossed 13,000 subscriber mark.
The emails were very detailed and exhaustive. To make it easy to read, we also published a version of this content that ranged from 1000-8000 words on MasterClass website (mclass.co) so that those who are keen to read email as a webpage can do that.
In addition to making it easy for subscribers to read. It also generated 1000s of new visitors to the MasterClass website and also generated a large number of comments like this blog post with 800 plus detailed meaningful comments.
In addition to the content – at the end of the each lesson an assignment was given to practice.
We have now stopped promoting the course but we continue to get new subscribers (which are potential customers) through referrals and organic reach.